Yoga and Meditation Retreat in the Yarra Valley
4 – 6 October 2013
We all enjoyed and benefited from a weekend away to immerse ourselves in yoga.
Special huge thanks to Mahamandaleshwar Swami Jasraj Puri for bringing a depth to the experience through his teaching and sharing of yogic wisdom, stories and humor.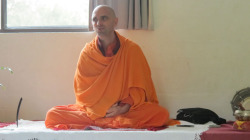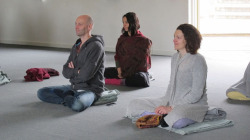 Special thanks also to Antonia Joss of Ant Food Catering who looked after us over the weekend taking bulk yogic vegetarian cooking to a whole new amazing and fabulous level.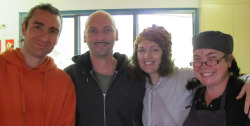 About a Yogic Diet:
Proper diet is fundamental for sustaining good health and mental development. What we eat has far reaching effects well beyond our own bodies. The Science of Yoga has given us the understanding of the effects of food on our bodies, our mind, and our environment. It has shown us how food not only affects our health but how we feel and think. Great Yogis through out the ages have taught us the benefits of the yogic diet. This article explains some of the reasons Yogis are vegetarian.
"We are not living for eating we are eating for living"

Excerpt from "Yoga in Daily Life - the System" by Paramhans Swami Maheshwarananda
The Yogic Diet is a vegetarian one that consists of pure, simple, natural foods which are easily digested and promote health. Simple meals aid the digestion and assimilation of foods. Yogis aim to eat foods first-hand from nature, grown in fertile soil (preferably organic), ripened naturally and cooked in the right manner and with a positive attitude.
The Yogi is concerned with the subtle effect that food has on his mind and astral body. They therefore avoid foods which are overly stimulating or dulling, preferring those which render the mind calm and the intellect sharp. Partaking of a diet such as this also helps in the development of prana or vital energy. One who seriously takes to the path of Yoga would avoid ingesting meats, fish, eggs, onions, garlic, coffee, tea (except herbal), alcohol and drugs.
Another important aspect of a Yogic diet is the attitude and practice of "AHIMSA" which is Sanskirt meaning nonviolence. A yogic diet is purely vegetarian, eschewing all such methods which involve the killing or harming of animals.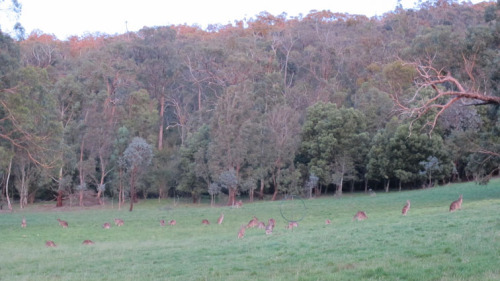 Here are RECIPES for some of the meals we enjoyed at this retreat thanks to Ant Food catering.
There are vegan & gluten free & phalahari friendly options that we, the YIDL Melbourne team, made for this retreat. These recipes are not included here but we are happy to share if you want - email us melbourne@yogaindailylife.org
Polenta (6 good sized serving pieces)
1litre liquid (I use approximately 500mls water; 250mls vegetable stock; 250mls milk)
1 cup fine polenta
Pinch of salt & pepper
100gms butter
200gms grated cheese (non animal rennet)
Chopped fresh herbs
Boil the liquid in a large saucepan, rain in the polenta and stir/whisk vigorously so it's not lumpy. Add salt & pepper; then bring to the boil (stir it a bit). The polenta will start to pop like a volcano and you'll need to put a lid on the pot and turn heat to very low to cook for another 5 minutes.
Take off the heat and stir in the butter and cheese... and chopped herbs if desired.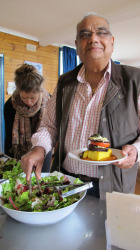 You can serve this now as a mash potato substitute with grilled vegetables as a stack like we had at the retreat or stews. It can still be a bit gritty and it's often recommended to keep stirring it over the low heat for 20 minutes (this will leave you with a very brown bottomed pan to scrub) so I would now pour it into a well greased/buttered slice tray and stand until it is set. Then cut it into serving shapes whilst it is still in the slice tray before placing the whole tray into a preheated 180°C oven and baking until crispy on top. Serve this with fresh tomato/pasta sauce under each piece with extra cheese for sprinkling.
At the retreat I stacked grilled eggplant, zucchini, and capsicum slices, a fresh slice of tomato and a grilled Portobello Mushroom sprinkled with Feta Cheese and top of each set piece before returning them to the oven for about 20minutes (but you will need to place the cut serving pieces onto a flat greased tray before adding toppings). To finish I added a dollop on pesto (just pinenuts, basil, olive oil and 1 clove of garlic blitzed in a bar-mix). You can also drizzle with Balsamic Glaze for a final bit of colour.

Coconut & Brown Sugar Sago (This makes a lot)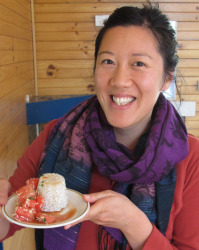 1 cup brown sugar
1 cup water
1 cinnamon quill
3 cardamon pods – crushed
2 star anise pods
½ teaspoon vanilla extract – or ½ a split, scraped vanilla pod
Place all this into a saucepan and bring to boil over high heat. Boil rapidly for a good five minutes or until the bubbles forming are large & glossy – you are making syrup so it needs to change from a watery to a stickier mix. Set this aside for later; and strain before adding ½ to the cooked sago.
3 litres water
Boil with a pinch of salt added and the lid on; and when it is boiling rapidly pour in the sago
375gms Sago
Stir, or even whisk, the sago when you have added... to separate the grains. I tend to stir every now and then to keep it from clumping on the bottom of the pot. The sago can be boiled over fairly high heat – you want it to bounce around and not clump. The sago will swell and begin to go clear, but you want a tiny dot of white to remain in the centre – it does look a bit like frogs eggs. At this stage you need to strain the sago through a sieve and rinse it with cold water. I find the easiest way is to return it to the pot and add cold water, then strain again.
Return the sago to the cooking pot and add ½ the syrup + 1x 400ml tin Coconut MILK or 'Lite' Cream. Stir all together and pour into greased mould/s and set for a few hours. Serve with remaining syrup drizzled over the top & fresh diced watermelon with shredded mint.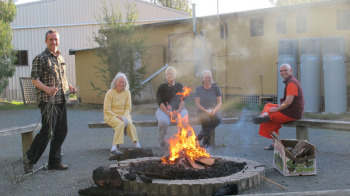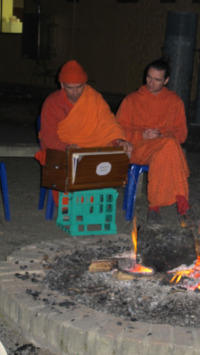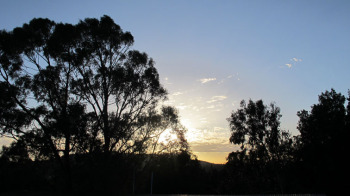 Pumpkin & Chickpea Tagine (Well sort of – it's really a casserole with Middle Eastern spices!)
4 mains sized serves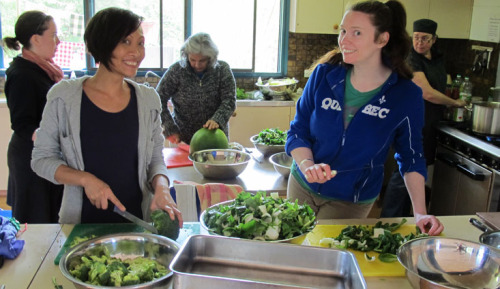 1 cup chickpeas
Soak the dry chickpeas overnight in plenty of cold water, drain the next day and add to fresh cold water in a saucepan – cover until water is 1 little finger above the chickpeas surface – bring to the boil uncovered, skim, and boil vigorously for 5 minutes. Cover the pot, turn off the heat and let stand for 1 hour. Drain and use as required.
½ Onion - diced
1 clove garlic – chopped roughly
1 stem of celery – diced
1kg hard pumpkin (not butternut it will go to mush – so a Jap or Q'land blue) peeled and cut into chucky bits.
2 tablespoons Ras el Hanout spice mix
1 teaspoon cumin seeds
1 teaspoon fresh ginger grated finely
Get all this prepared and onto a plate for easy access whilst cooking.
4 tablespoon oil (olive, vegetable, rice bran or coconut)
Heat the oil in a large saucepan; and whilst it is heating grease a casserole dish/tray for the final stage of cooking... preheat oven to 180°C.
Start by cooking the onions, and when they are soft add the celery and cook until the onion has a bit of colour; now add the spice mix, seeds, garlic & ginger and stir until well mixed; then add pumpkin and coat in the spices and oil.
½ bottle Pasatta
1 small tin diced tomatoes
Add both these and rinse out the tin from tomatoes with 1 cup water adding this to the pumpkin too.
Bring the mixture to the boil, folding the pumpkin gently until the liquid bubbles.
Chickpeas – all the cooked ones
Either ½ a whole preserved lemon - rind rinsed and sliced finely, or fresh lemon rind grated finely
Pitted black olives (to taste – optional)
(A handful of dried fruit may be added at this stage – dates, apricots, prunes, or figs are all great)
Add these ingredients and stir the mixture again. Now pour it all into the greased tray/casserole dish and cover with foil or the lid. Place this into the preheated oven for approximately 40 minutes. Take it out and discard the lid/foil, return to the oven for 15 more minutes – this will allow some steam to escape and the sauce to thicken slightly.
Fresh Coriander and Basil leaves
To finish scatter the washed, picked leaves over the dish and stir through just before service. A little salt needs to be added at this stage too.
At the retreat we served this with brown rice and steamed Asian greens, but it could be served with the plain baked polenta, cous cous or a white rice pilaf. Greek style yoghurt is always nice this spiced dish and I would add some shredded mint to the yoghurt.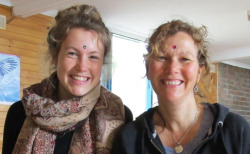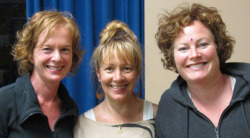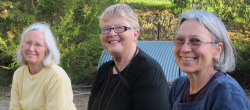 Chocolate Ganache Tarts with Spiced Oranges
(Makes about 6)
6 pre-baked tartlet cases
At the retreat I cheated and used Pampas Shortcrust Pastry – it has no egg and no sugar.
200mls pure cream
200gms dark cooking chocolate – good stuff around 70/85% cocoa is what you are looking for and this is available in supermarkets. You can splurge and buy couverture chocolate but it can be tricky to temper.
½ teaspoon of vanilla extract or ½ vanilla pod split & scraped (take the vanilla pod and cut it lengthways in half, with the back of a knife scrape all the little black seeds from the inside of the pod and add to the dish + the pod casing – the casing needs to be removed from the final product.
1 orange - rind finely grated from ½ the outside of the whole orange. You can then use the orange for the other part of the dish.
Heat the cream, vanilla and orange zest in a heavy based saucepan until it is about 40-50°C about the temperature of a baby bath. Do not boil the cream, and if you do then let it cool down to this temperature before adding the chocolate pieces. Break the chocolate into squares; if you have added the vanilla pod use a fork and remove it from the cream (you can wash this and dry it and then put it in your cooking sugar canister), now put in the chocolate bits and use a whisk to stir it through gently. The chocolate should melt fairly well if it is broken up into small squares, once it has dissolved whisk the mixture until glossy At this stage add some to each of your tart cases until just under their rims. Pour any remaining Ganache into a small bowl. Set the tarts and Ganache into the fridge covered for a couple of hours to set.
2-3 oranges – Navel if possible as there are no seeds, if you use Valencia please remove as many seeds as possible before serving the slices. To prepare, slice off the top and tail of the oranges where the stem would have joined the top of the orange and then the base. The orange will now sit flat on a cutting board. Use a small paring knife and run it down the sides of the orange from the top to the base taking off as much rind and pith as possible – there will be a little bit of waste of flesh but you don't want any white pith remaining – the oranges should look like little barrels. Now turn the oranges on their rounded sided and slice them into about 6 slices of equal thickness. Add the oranges to the Spiced Sugar Syrup.
Spiced Sugar Syrup – please see the recipe for the Sago Pudding – it is the same brown sugar syrup mixture and you can use 1 batch to soak the orange slices prior to service.
To serve; take out the tarts and Ganache, the chocolate will be set after about 2 hours usually. Use a dessert spoon lengthways to curl some more Ganache out of the bowl to use as a garnish on top of each tart; use a second dessert spoon to slide the curl of chocolate off the first one and onto the tart. If you want to dust the tarts with cocoa powder or icing sugar do so before placing them onto the plates. The tarts are added to the plate after the oranges.
Add a couple of orange slices to each plate and a generous serve of syrup. You can brighten the plate with a mint leaf or add a couple of raspberries onto the oranges.