From Fri 27 Dec 13 to Wed 1 Jan 2014 a group of 24 people participated in our New Year Retreat, a beautiful setting bordering on the Royal National Park and the South Coast beaches, Otford NSW.
It wasn't on my mind as a potential topic, but the few months before this retreat information, quotes, ideas and practices for gratitude were stalking me! So, alright, gratitude, I'm looking at you! And I am grateful I took notice.
Adventure in the RoyalNational Park
STOP REVIVE THRIVE
"When we consciously send beautiful, positive and pure thoughts to the storeroom of our subconscious every day, our destiny will also change for the better – but we should not forget that the reverse also applies!" (Paramhans Swami Maheshwaranada (Swamiji) in his book 'The Hidden Powers in Humans' page 95)
The New Year is a good time to stop and check in on how we are going. To reflect, think, plan for any changes that are required to move us in the direction we'd like our life to be going. We all experience that life deals us challenges and distractions that can sometimes be all consuming and take us where we don't want to be. We were fortunate at this retreat to have the time and space for this reflection. The opportunity to rest, practice yoga and meditation, be in the energy clearing nature and be nourished by the health giving vegetarian food. We were also without tv and radio, and most of us left phones and computers packed away. How nice, post Christmas, to be relieved of the "more, bigger, better, faster" mentality. And to be supported by the open, caring and relaxed company of each other.
"The secret to change is to focus all your energy, not on fighting the old, but on building the new." (Socrates)
In the RoyalNational Park – grateful for refreshing clean water after a long walk on a warm day
JUST DO IT!
"Research shows that those who regularly practice being grateful can raise their day-to-day level of happiness they are experiencing by around 24%." (Prof Robert Emmons).
At the retreat we had a gratitude box. Each evening we individually wrote our point/s of gratitude and added it to the box.
"Experiencing and expressing gratitude is an important part of any spiritual practice. It opens the heart and activates positive emotion centers in the brain. Regular practice of gratitude can change the way our brain neurons fire into more positive automatic patterns. The positive emotions we evoke can soothe distress and broaden our thinking patterns so we develop a larger and more expansive view of our lives. Gratitude is an emotion of connectedness, which reminds us we are part of a larger universe with all living things." (Melanie Greenberg)
On New Years Eve, around the bonfire, we took turns to read each others 'gratitude' to the whole group. Sharing of the gratitude helped to reaffirm our own and open our eyes to the possibilities.
Here are some for sharing: I am grateful for …
o the ability to laugh! Ha ha ha
o chocolate; rich, dark, yummy chocolate
o being in the position to have lots of choices in life
o time to reflect on 2013 and to plan a brilliant 2014
o when I feel healthy & pain free
o this beautiful retreat. That I can share this time, and this time of year with like minded people. I am grateful to the cicadas for reminding me that I am in nature & my ears & hearing are precious. I am grateful for the sense of excitement I have about what is to come over the next few days
o being able to learn even a little bit about the Aboriginal culture from two inspiring people
o generally only having to deal with first world problems
o the beautiful day & feeling calmer
o the feeling of being inspired
o the way temporary intentional communities such as this one, in my experience, are always full of ease, kindness & acceptance
o my laugh lines – what joy I have felt! :)
o having completed the walk to the beach. To be surrounded by the nature – the ocean and the trees.
o my two legs that they are strong and capable to take me places
o to everyone here for making this such a fulfilling experience
o the nature and ambience of being surrounded by trees & creatures
o the skill & dedication of yoga teachers and that I have the opportunity to enjoy the benefits they bestow so generously
o meeting new & wonderful people at this retreat
New Years Eve Bonfire
MOVING FORWARD
Practicing gratitude was at the same time both enriching and humbling. Evoking the feelings of abundance and awe. It was a practice of awareness that when, during meditation my over thinking mind went to thoughts of worries and projections of the dreaded 'what if' scenarios, I noticed more quickly I could catch it and tell myself not to waste my time, turning my attention to positive and what I can work with to keep moving forward.
"The world is not empty. It is full of flowers, good people, Satsang, wisdom and knowledge. Open your eyes, your heart and your consciousness and you will see it. Don't be like a fly, always going around what is dirty. Be like a bee, who looks for flowers and takes the honey even from a poisonous plant, she knows how to get the nectar." (Paramhans Sri Swami Maheshwarananda)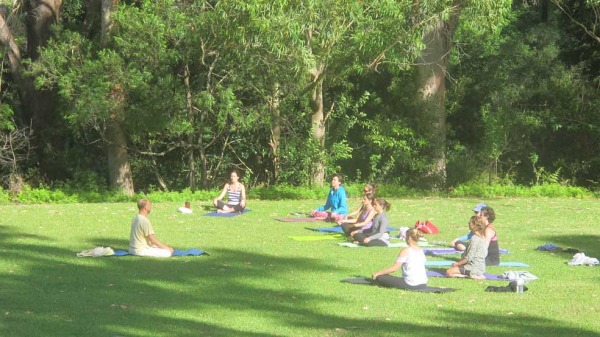 Afternoon practice in the fresh air