Extra Tips to Take Care and make the most of your yoga class experience: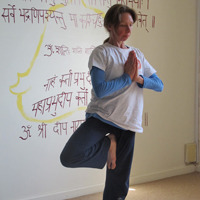 Talk to the teacher before class
Let the teacher know if you are new to yoga, or new to this school or this class. Let the teacher know if you have any injuries or medical conditions, or any concerns about class. While clear guidance is given on general lines, when we know you need to take care we can be specific.

Give yourself permission
Take care of your own needs in class, whether that's by taking a break, observing instead of doing, or modifying a pose to make it more comfortable. You can use a resting pose, to focus on your breath and rest the body. We encourage you to stop when ever you need to. Ask for assistance. If you're unsure whether a pose or movement is right for you, ask the teacher for help. If its not possible during the class, then talk to your teacher after the class. Let us know if something was not quite right for you and we will offer adjustments or alternatives.

No comparing yourself to anyone else
Yoga in non-competitive. Let your focus remain with you. Simply be aware of your abilities and how you are feeling in your practice right now. Regardless of age, level of fitness or state of health, all people can experience the benefits of a regular yoga practice.
Avoid pushing or forcing
In the stretches work with your body in a way that you go to the point of challenge and not beyond where injury can occur. Consider that your yoga practice is also your own personal accupunture treatment. You are working with your energy body as much as your physical body. Challenge is good, but beyond that you are blocking your energy system and losing many of the benefits of your practice. The key is ...
Be aware. Heighten your awareness to the response of your body, your breathing and your thinking as you practice. Developing this awareness is the main part of your practice and will serve you in all areas of your life.

A tool for your whole lifetime
Yoga is a practice that will keep you interested and challenged for a lifetime. There's no need to achieve – or even try – everything the first day, week, month, or year. There is so much to offer, simply keep going and enjoy the journey.
During Menstration
ladies are recommended to practice more gently and avoid inverted poses (upside down postures).

High blood pressure, diziness & heart conditions
are conditions important for your teacher to know about before the class so they can offer variations on certain exercises.
Light headed, headaches, diziness, cramps & other physical complaints may be experienced after a yoga class. Newly stretched muscles may respond by cramping or twitching, and toxins liberated from usually tense muscles may cause headaches or nausea. This is a good sign that your body is detoxing! Symptoms will quickly disappear by drinking water, a warm shower & breathing fresh air.

Pregnant Women
If you are wishing to start yoga within your first trimester we suggest you get your health care practitioners ok before commencing. Women can practice yoga during all stages of pregnancy. See on our Richmond timetable for the Pre Natal yoga class time.