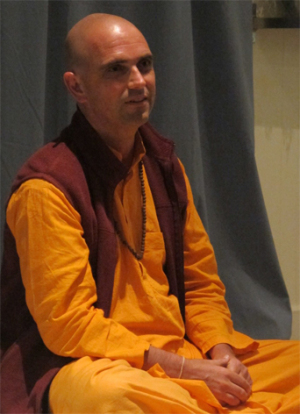 Last week we were blessed with a visit from Mahamandaleshwar Swami Jasraj Puri.
From Sunday 21 to Thursday 25 September 2014 he led inspiring programs each evening.
For those of you reading this who have not yet meet Swami Jasraj, he grew up in Sydney (barracks for the Swans) and has spent the past 18 years living in the Yoga in Daily Life ashram in India, devoting his life to the study and practice of Yoga. Not just sun salutes and headstands but the whole big picture stuff, under the guidance of his Master Paramhans Swami Maheshwarananda (Swamiji). It was a unique opportunity to have someone from our culture with a depth of experience in another sharing those teachings with us. It made it more accessible.
The sessions were a combination of discourse, Q&A and practice. The talks included the singing of traditional spiritual songs, called bhajans. Many attendees appreciated Swami Jasrajs singing and commentary of the teachings in the bhajans that highlighted the value of practicing meditation and its relevance to our daily life. This approach also very nicely put a lot of heart into the topic of meditation. He also shared references from the classic yogic texts of Patanjalis Yoga Sutras & the Bhagavad Gita and stories from his own experience of being in India, time with Swamiji & Swamiji's guru Sri Swami Madhavanandaji. It was altogether very engaging and motivating.




Here are just a few of the jewels that stand out for a few of us from the sessions:
We are lucky to live in this country. All our basic needs are met. Therefore we should make the most of this opportunity, not waste the chance, to do something more including developing our spiritual practice.


The Sanskrit word "Mana" generally is translated as meaning the mind. But is used to describe both the mind and the heart. Because you cannot have an open mind without an open heart & vise-versa.



Start with working on the smaller issues rather than tackling the biggies, then being disillusioned when not successful.

Working on ego and not having attachment to an outcome.


Having joy in the achievement of others at all times

Our mind is the most powerful instrument given by nature. While it relies on the 5 senses for information, it is capable of forming an opinion based on our memories or experiences, with a dash of ego infused in it. To help lead a harmonious life, the power of mind can be harnessed to learn and accept things AS they are and deal with issues accordingly without grudges or ill feelings.

Replace any negative thoughts with alternative positive thoughts. Avoid leaving a gap.

My path is unique and practice is required to follow it

"I have read enough of God's menu – let's eat." ~ a poem from Hafiz, the Sufi Master. Meaning we can talk & talk about meditation but it's all in the practice, so let's practice!
Overall it was very special time in positive and supportive energy with a like minded group of people at the Yoga in Daily Life Melbourne Centre.
Follow this link to a previous post > About Meditation talk by Swami Jasraj.