Many students often ask
us what is the purpose of meditation? Why do we need it? What exactly is meditation meant to do with our minds?
At our recent Easter Retreat, Swami Gopal - dedicated yogi and one of our primary yoga instructors - came up with a great analogy to help us understand. He placed a jar before us in which he put mud and water. The jar is likened to our body, the mud is the thoughts and the water is the mind.
When the jar / our body is moving then the mud / thoughts mix with the water / mind and cloud the water / mind.
When the jar / our body is still for some time then the mud / thoughts sink to the bottom and the water / mind becomes clear.
Simple. Practicing meditation helps calm our thoughts down and our minds become clear.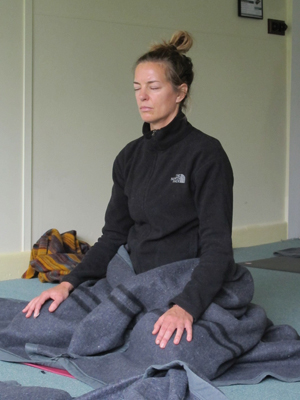 This years annual Easter Retreat, which was attended by 24 yoga enthusiasts, was held from 25 - 28 March 2016 at Continental House, Hepburn Springs.
Our retreats are an immersive experience.
There were Satsangs every evening in which we learnt to understand more about about meditation and enjoyed the stimulating questions and ideas that were really making us think outside of our usual box. We use the opportunity to integrate what we had learnt into the other retreat sessions, namely the early morning meditations, but also the asana, pranayam, yoga nidra, periods of silence and to continue the exploration of these topics with each other joyfully over the delicious meals.
Here are a few photos from our yoga & meditation retreat to share with you ...
You may ask -
how do I get to the point where I can sit still for up to 45 - 60 minutes as was practiced at this retreat?
Good question!
It is so useful to have guidance and support to help develop and maintain a daily practice. Thats exactly what we can offer you at
Yoga in Daily Life Richmond
, Melbourne
.
Start with the
Beginners 4 week Meditation course.
Continue to develop with attending
Tuesday nights

Meditation & Philosophy class
and the
monthly

Satsangs.
AND of course
Retreats!