By popular request we are sharing the vegan and vegetarian recipes you enjoy at our retreats and satsangs.
posted 18.03.18
Miso - Caramel Macadamia Cups
These were a hit at the Urban Yoga Retreat. The recipe is from 'Elsa's Wholesome Life' by Ellie Bullen
Makes 24. Vegan & GF.
Ingredients

BASE

1 1/2 cups (230g) macadamia nuts pre soaked

75g medjool dates, about 4, pitted

1 / 2 desiccated coconut

MISO - CARAMEL FILLING

320g medjool dates, about 18, pitted

1 Tbs miso paste. Though our experience is that it could be more.

1 / 3 cup maple syrup

1 Tbsp macadamia nut oil

TOPPING

50g coconut oil

50g cacao butter

1 / 2 cup cacao powder

1 / 4 cup maple syrup

TO SERVE

6 rosemary sprigs, quartered

roughly chopped macadamia nuts

salt

THE BASE

place the macadamias in the blender and process until finely crumbled. Add the dates and process again until you have a rough dough like mixture. Transfer to a mixing bowl & stir in the coconut. Mix well. Press the mixture into the base and sides of a 24 mould silicon cupcake tray (or use a regular muffin tray lined with baking paper.). Place in the freezer to set.

THE FILLING

combine all the ingredients in a blender and blitz until smooth and creamy.

When the base has set, remove from the freezer and spoon 1 dessertspoon of filling evenly into each mould. Return to the freezer.

THE TOPPING

melt the coconut oil and cacao butter in a heatproof bowl over a saucepan of simmering water. Remove the pan from the heat and sift thin the cacao powder. Add the maple syrup and whisk with a fork until well combined.

When the caramel is cold, pour the chocolate over each mould. Return to the freezer to set for at least 1 hour.

TO SERVE, remove the 'cups' from their moulds and top with rosemary sprigs, a sprinkle of macadamias and a twist of salt.
---

posted 25.4.17
Easter Retreat 2017 Recipes Compilation
We spend the 4 days over the Easter weekend on retreat at Hepburn Springs. Part of a holistic yoga experience is the vegetarian, mostly vegan, wholefood fresh and delicious meals we share.

Retreat participants offered to help with the meal preparation & there was a washing up roster. This 'karma yoga' (selfless service) gave another opportunity to integrate yoga into our daily life.
Click on
this > link
to the pdf of the recipes. We hope you use some!
---

posted 4.4.17
Sri Lankan Chickpeas
A dry and very tasty dish that could be a snack or served in a meal along side a vegetable curry and chapatis. Approx 4 serves.

Soak 150g chick peas overnight. In fresh water boil them with a little salt & thermic until soft.

Dry roast some coconut pieces in a pan.

Saute in oil
1tsp mustard seeds
8 curry leaves
a panda leaf
1 tsp cumin seeds
Once the mustard seeds start to pop add 2 tsp of Sri Lankan 'kata sambol"* and add coconut pieces. Add in boiled chickpeas. Add salt & chilli pieces according to your taste.
* available in Sri Lankan & asian grocers
---

posted 7.2.17
Homemade Healthy Vegemite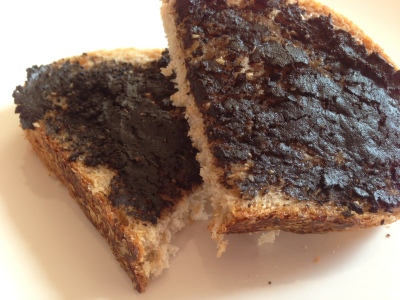 Curious minds and adventurous tastebuds at our last Spring & New Year retreats were rewarded with the (surprisingly) delectable taste of this nutritiously abundant breakfast spread. I was requested to start a small business to make it for you, but I'm just sharing the recipe instead! #vegan #glutenfree #sugarfree

1/4 cup black tahini (black sesame seed paste)
2 Tbsp tamari sauce (
not
the salt reduced kind)
1 Tbsp nutritional yeast flakes
1 tsp apple cider vinegar (go for the tart zingy tasting one)

then you just mix these ingredients together
store in a sealed jar in the pantry.
#easy #healthy #yummy




---

posted 19.10.16
Vegetable Samosas
From our Spring Retreat in the Yarra Velley.
makes a bunch


Ingredients
500g potatoes, peeled & cut into small pieces
1 Tbs turmeric with 1tsp salt
olive oil for sautéing
1 ½ finely sliced red onion
1 knob grated fresh ginger
250g frozen peas
1Tbs ground coriander
1tsp ground cumin
pinch red chilli powder
½ tsp each garam masala and black mustard seeds
juice ½ lemon
salt to taste
½ bunch chopped fresh coriander
packet puff pastry
a little water for brushing the pastry


Method
Put the potatoes, turmeric & salt in a large pot. Cover with water, bring to the boil then turn the heat down and simmer until soft. The potatoes should be at the point of starting to break down. Drain.

In the meantime heat the oil in a non stick pan & fry the mustard seeds until they begin to pop. Add the onion and ginger and saute over medium heat for a few minutes until softened. Add the spices and salt to taste. Cook for another couple of minutes then switch the heat off and leave to the side until the potatoes are cooked.

Heat the oven to 180 - 200 degrees.

Unroll the pastry. Leave it for 5 - 10 minutes to soften. (it should still be cold & fairly firm but pliable)

Finish your samosa mix by adding the onion mix to the hot drained potatoes, add the peas, the juice of half a lemon and the fresh coriander. Mix well & taste for seasoning. You may want to add more salt or more lemon juice.

To assemble (you need to work fairly quickly as the pastry is hard to manage once it becomes too soft)

Cut the piece of pastry into 4 equal squares then lift the off the backing plastic, moving them outwards but leaving half on the plastic. This will help you pick them up once you've filled them. With the water brush 2 sides of each square (the 2 sides you will join together).

Using a clean hand, clump a small mound of samosa filling into the centre of the pastry, enough to fill it but not so much as to overfill. Do this to a few samosas at a time. Then with clean dry hands take a corner of the pastry and fold it diagonally (using your 2 wet sides) enclosing the filling and forming a triangle. Pinch / pleat to seal the edges. Place into a baking sheet lined with baking paper. Work quickly to fill the baking sheet with your samosas and when the tray is full brush the whole samosas with water.

Bake for around 20 - 30 minutes until golden. Keep an eye on them once you reach the 15 - 20 minute mark.

Serve with chutney or raita. And thanks to Ilana for cooking for us on this retreat.



---


posted 27.05.16
Chocolate Cake - vegan & gluten free
This is the recipe for the best tasting vegan Chocolate cake that gets served at Satsang on occasion.
Serves : 12 Preparation:20min › Cook:30min › Ready in:50min


Ingredients
190g plain flour *
200g sugar
1/4 cup unsweetened cocoa powder
1 teaspoon bicarb soda
1 teaspoon salt
1 tablespoon white vinegar
80ml vegetable oil
250ml water
1 teaspoon vanilla essence

Directions
Preheat oven to 180 degrees C. Grease a 22cm square cake tin.
Sift together the flour, sugar, cocoa, the bicarb soda and the salt. Stir in the vinegar, oil, water and vanilla. Beat until smooth. Pour the cake mixture into the prepared cake tin.
Bake for 30 to 35 minutes. Let cake cool.
Made 2 cakes and sandwiched together with vanilla butter cream and topped with chocolate butter cream.

* Used Organ gluten free self raising flour in lieu of plain flour)



---


posted 12.04.16
Roasted Cauliflower with Lebanese Lentils and Kaniwa
From the book My New Roots by Sarah Britton

We had this delicious meal at our Easter 2016 Retreat. It has a few steps, but they are all easy. When I first made it I was seriously doubting the flavours would work, but they so totally do. Enjoy some flavours from my cultural heritage & a perfect vegan protein hit. Btw we used quinoa as I have no idea what kaniwa is!

We served it with roasted pumpkin cubes spiced with cumin & oregano + a green salad with tahini dressing.

Serves 4. Preparation: 15 minutes. Cooking 30 minutes. Skill Level Easy.

Ingredients

vvvvvvvvvvvvvvvvvvvvvvvvvvvvvv


1 head cauliflower
1 Tbsp coconut oil, melted
flaky sea salt
½ cup (125 g) kaniwa or quinoa
fine sea salt
1 cup (200 g) green lentils
2 tsp cumin seeds
1 cinnamon stick
1 tsp fennel seeds
½ tsp freshly cracked black pepper
3 small onions (350 g), sliced
2 tbsp cold-pressed olive oil
grated zest of 1 organic orange
2 tbsp freshly squeezed orange juice
1½ tbsp freshly squeezed lemon juice
½ cup (7 g) chopped fresh mint / basil leaves, plus more for garnish
½ cup (7 g) chopped fresh parsley leaves
½ tsp fine sea salt
1 tsp raw honey / maple syrup
pink peppercorns, for garnish

Instructions

Preheat the oven to 200ºC (400ºF/gas mark 6). Line a baking sheet with baking parchment.

Cut the cauliflower head into slices. Toss them with a little ghee and salt, and then arrange them in a single layer on the prepared baking sheet. Roast for 20 to 30 minutes, until the slices are browning on the edges.

Meanwhile, rinse and drain the kaniwa. Put it in a small saucepan, add just under 1 cup (225 ml) of water and fine sea salt, and bring to a boil. Reduce the heat, and simmer until tender, about 15 minutes.

Rinse and drain the lentils. Put them in another small saucepan, add water to cover, and bring to a boil. Then reduce the heat and simmer until tender, about 20 minutes. About 5 minutes before the lentils are finished cooking, add a few pinches of flaky sea salt.

Heat the coconut oil in a large saucepan over medium heat. Add the cumin seeds, cinnamon stick, fennel seeds, and black pepper. Cook until fragrant, 3 to 5 minutes. Add the sliced onions and cook, stirring often, until lightly caramelized, about 15 minutes. Add the cooked kaniwa and lentils, stir to combine, and reheat if necessary. Remove the cinnamon stick.

Whisk the olive oil, orange zest and juice, lemon juice, mint, parsley, fine sea salt, and honey together in a small bowl. Pour this over the lentils and kaniwa.

To serve, divide the kaniwa-lentil mixture, as well as the cauliflower slices, among four plates. Sprinkle with chopped mint and pink peppercorns. Serve warm.