It was our biggest retreat ever with 60 attendees and I am happy to report we managed it well. With an adjustment to some of the logistics to help it flow, in the end they worked out so well, such as offering 3 levels of classes (gentle, intermediate & advanced) for the morning practice so there definitely was something to suit everyone!
Background:
Our weekend Yoga Retreat was in the Yarra Valley near Healesville from Friday evening 7 October to Sunday afternoon 9 October 2016. On offer was a Yoga in Daily Life program, an Ayurveda component and delicious vegetarian (mostly vegan & gluten free) meals. I'm sorry I did not take more photos. If you did, please share them with us.
Highlights: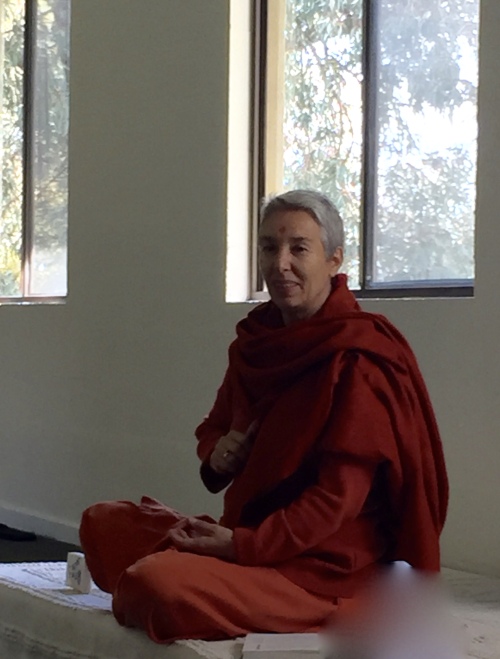 Swami Uma Puri

was our guest yogi.
Swami Uma Puri is a long time disciple of Vishwaguruji Paramhans Swami Maheshwarananda. Coming from Austria originally, she has been practicing yoga and teaching internationally for some years and this was evident in what she generously shared with us at the retreat.
Among other things, including her amazing gentle Yoga in Daily Life
Back and Neck Care
yoga classes that got sore and tight bodies moving freely and feeling great, she lead a session on the
Manipur Chakra.
This is the energy centre just above / behind the navel. The most fascinating part of this session was how practical she made it.
Think about it - energy is energy - can you actually feel it?
We were guided into a position that everyone could manage and invited to hold it for a few minutes with the awareness to mentally feel around the navel area for a pulse. Once we located it we changed to another position and made a movement to bring the pulse to the centre of our body. It was amazing what we could actually feel in our own body and then actually see the pulse on one (slim) persons body! This pulse is the energy of the solar plexus and our
Manipur Chakra.
The exercise was to bring it back into its correct position.
Swami Umapuri explained the benefits of having the energy move freely in a balanced way in the
Manipur Chakra
for our physical health and optimum vitality. We appreciated being guided in such a way that we got to experience this often esoteric subject in such a personal way.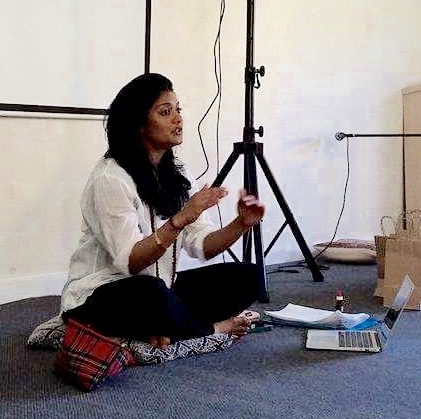 Niveen Rajabdeen

,

Ayurvedic Lifestyle Consultant
,
lead us through an Introduction to Ayurveda workshop. It's way to big a subject to address here, so ...

In short, we came to understand this material world is made up of the 5 elements; air, space, water, fire and earth. Our bodies are also part of this material world and each of us has a unique combination of these 5 elements, some in higher proportion to others. She enlightened us on the qualities of these elements and how we could see them playing out in our own body particularly where there are imbalances.

The fun part was that we identified where our personal major imbalances were (lucky for those with none!) and then went to a yoga class with a emphasis to bring us back to balance.
So the people with a
Vata imbalance
were guided through their Yoga in Daily Life practice in a way to slow down and become grounded. For example practicing
Khatu Pranam
in rhythm with slow breathing, holding poses and relaxing into them, balancing poses and longer relaxation and
nadi shodhana pranayam
.
Those with a
Pitta imbalance
were lead through a slow to moderate practice, calming and cooling with some emphasis to stretch and twist through the belly to release tension then finishing with shitali pranayam.
Those people with
Kapha imbalance
were lead through a dynamic and invigorating practice and also practiced
kapalbati pranayam.
And yes, it was effective!
Summary:
Thanks to everyone who helped leading into & throughout the weekend. Huge thanks to Ilana for the delicious nourishing vegetarian meals. The main feedback we received was that an extra day would be appreciated, so in 2017 we are thinking to move this retreat to Cup Weekend. What do you think?
Take Home Tip:
Swami Uma Puri and Niveen both emphasised the importance of "gewohnheit" a German word meaning habit. How growth can be brought to your practice and your mental state through routine and consistent practice of a habit on a daily basis to bring about the change you want in your life.