Saturday 17 - Friday 23 August 2019

Heart Centered Living
Yoga in Daily Life Retreat in Ubud, Bali
Dear Friends,
we invite you to join us on this blissful week away. With the warm, peaceful atmosphere and healing energies of Bali as our backdrop we will explore the wondrous practices and teachings of yoga.

Our intention is to offer an immersion into asana, pranayama, relaxation, meditation and satsang without the distractions of our regular life, the opportunity to explore your own practice more deeply, touching the wisdom of your heart. Practices are supported with guidance in the sessions plus opportunities to talk with the teachers and time to integrate your own experiences. All this balanced with ample free time to relax and do nothing or to explore the stunning tropical natural surrounds and vibrant culture of Ubud.





Cost
single $1680
share twin / double $1380pp


What's Included
6 nights accommodation in a superior room at Ananda Cottages
6 continental breakfasts,
5 dinners & 1 lunch
comprehensive yoga program

Getting there
Flights are not included in the price. Please arrange to fly in & out of Denpasar International Airport (Bali Ngurah Rai International Airport).
You will need a current passport with at least 6 months validity remaining. No VISA necessary for this short tourist visit. We recommend you take out travel insurance.
Airport transfers are available for approx. $35 - $45 per car one-way.

We are staying at
Ananda Cottages Ubud. Set in a beautiful location this resort is immersed in nature's serene surrounds, with comfort, character and modern conveniences. Far enough out of the main part of town, set amongst rice paddy fields and lush tropical forest, yet close enough to easily access all the wonderful cafes, health spas, culture and shopping Ubud town provides.
Our yoga pavilion is onsite. A spacious studio looking out to the luscious green garden.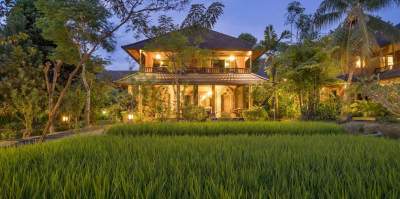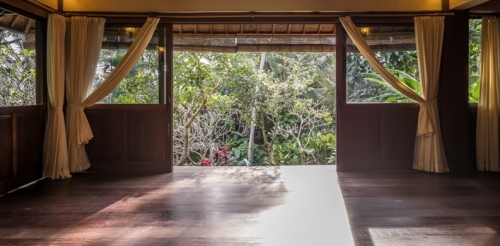 Your Room
We've reserved superior rooms. Double or twin share beds.
The room has WiFi, AC, TV, fan, desk, sofa, mosquito net, shower, bath, hairdryer, toilet, bathroom, mini fridge & electric kettle.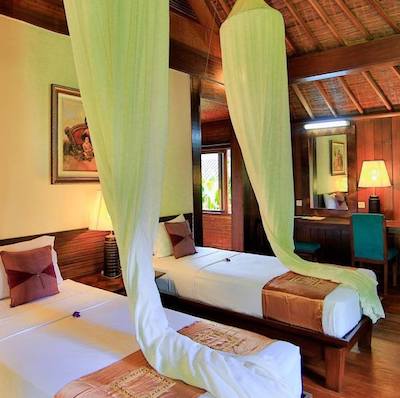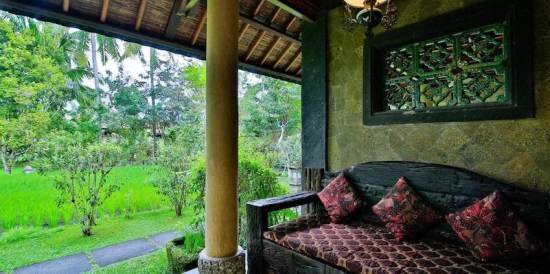 Sample Day
| | |
| --- | --- |
| 6.30am | guided yoga & meditation class |
| 8.15am | breakfast |
| 10am | on 2 of the mornings Swami Jasraj may lead a workshop |
| free time | free time |
| 3.40pm | yoga nidra (40 minutes guided relaxation) |
| 4.30pm | guided yoga & pranayama class |
| 6.30pm | dinner |
| 8pm | satsang & meditation |

All levels of yoga experience are welcome. Anyone not familiar with Yoga in Daily Life is also welcome. Families are welcome too. You are invited to take the retreat at your own pace doing as much or little as you need to find your own balance and wellbeing.
** please note you need to bring your own yoga mat **

Check in - is from 2pm.
We'll meet at the yoga room at 4pm for a welcome circle followed by a gentle warm up class. Then enjoy a welcome dinner at the local vegetarian restaurant The Elephant.
On Thursday we'll treat ourselves to lunch at the amazing plant based restaurant Moksa. Then stroll back through the rice fields to our venue. What ever time we return we'll continue our program of yoga nidra, yoga class then satsang. (I'm pretty sure we won't need dinner!)
On Friday morning after the class the retreat will conclude with a closing circle. The last official program will be breakfast.
Check out - is by 12 noon

You are welcome to arrive earlier or stay longer. Please contact Ananda Cottages directly to make these arrangements. Or of course you can choose to stay elsewhere in Bali!

This retreat features guest yogi Mahamandaleshwar Swami Jasraj Puri.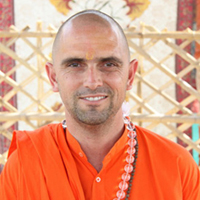 A main disciple of Paramhans Swami Maheshwarananda (Vishwaguruji), Swami Jasraj is Australian born and was living in India at the Yoga in Daily Life ashram in Rajasthan and studying and practicing in the holy Himalayas for more than 20 years.

Swami Jasraj is a highly respected and inspiring yogi whose immersion in the authentic yogic practices and life in India has contributed to his deep insight and experiences. With his western background we have the unique opportunity to learn from someone who can offer us these valuable ancient teachings in a modern and relevant context in a clear, down to earth manner.

Your other teachers will be Gita (Melbourne) & Narayani (Sunshine Coast).


Got questions or want to know more? Contact Gita 03 9427 0977 melbourne@yogaindailylife.org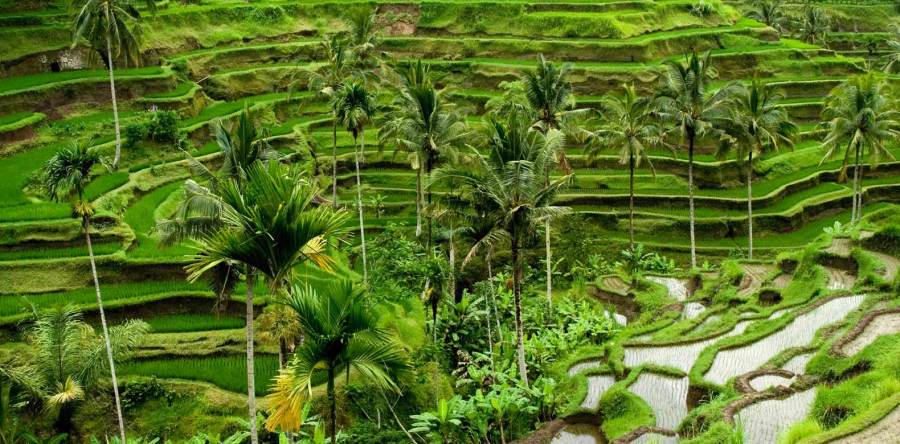 REGISTER by emailing the answers to these questions to melbourne@yogaindailylife.org

* Name
* Male / Female
* Email Address
* Mobile Phone Number
* City / Suburb / Town and State of Residence
* What is your level of yoga experience?
* Do you have any food allergies or intolerances? I'm not sure how much can be specially catered for, but we'll definitely try.
* Have you done a class or retreat with Yoga in Daily Life before? If yes, where & when?
* Do you have a medical condition that we should know about, such as high or low blood pressure, diabetes, depression, arthritis, sore back, neck, knees, any recent accident or operation etc ? This information will be kept confidential and will assist the retreat organisers and teachers to adapt the classes.
* How did you hear about this retreat?

PAYMENT: $300 deposit is required to reserve your place.

EFT: to Yoga in Daily Life Victoria CBA Bank BSB 063165 ACC 10410772 with reference of YOUR NAME and Bali. Please also let us know the date you made the transfer.

By registering you have agreed to the t's & c's (see below).

Once we have received everything we will send you a receipt and confirmation letter that includes other relevant information, what to pack, when to pay the balance and contact numbers.

TERMS AND CONDITIONS - please read carefully -
PAYMENT Yoga in Daily Life cannot guarantee or reserve a place until payment is received.
CANCELLATION Cancellations made before 20 June a refund will be given minus a $100 administration fee. Cancellations after this time there will be no refund or transfer.

DISCLAIMER We provide a nurturing and safe environment and our program is thoughtfully planned, but no responsibility will be taken for any injuries incurred during the retreat. Medical history forms are to be completed before the retreat, however we also advise you to consult your doctor if you have any pre-existing medical conditions.
It is essential that retreat participants retain full responsibility for their own physical and general well-being in applying instructions in the guided programs to their own circumstances, and to any other programs including the free time period. Yoga in Daily Life will not accept liability for any injury or loss suffered by retreat participants in their practice, or any other time or activity.
I understand that I participate in this yoga retreat at my own risk and accept full responsibility for any loss or injury suffered.
The venue: the description of the premises is given in good faith; no responsibility for misinterpretation will be accepted.

If you have any questions please phone 03 9427 0977 or email melbourne@yogaindailylife.org