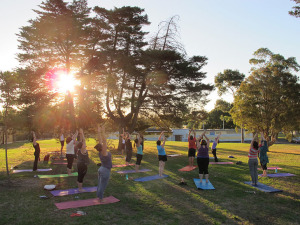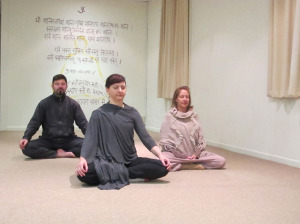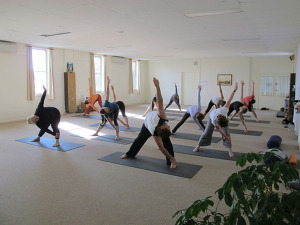 Most classes include asana (yoga exercises/ postures), relaxation, guided breath techniques (pranayam) & meditation.

We understand that everyone comes to yoga for different reasons. You will always be encouraged to practice at your own comfortable capacity. Guidance will be given on how to gradually work in to the practices, and you can then develop yourself at your own pace.
Yoga in Daily Life is an authentic and progressive system of yoga. Learn more about Yoga in Daily Life the System
> here.
Through Yoga in Daily Life practices you'll experience balanced energy, lightness of body and mind and a feeling of calm clarity. In every class you'll learn something new and with regular practice you'll see improvements through every area of life.
Community Class - this is a level 1 class at a discounted price of $5. This class is part of Yoga in Daily Life's commitment as a not for profit community organisation to help make yoga accessible and affordable for everyone in our community. This class is open to all including seniors, people with a low or no income and students.
Level 1 - A unique set of practices that you will not find elsewhere. This level is ideal for those who prefer a gentle practice or who have, for example, a sore back, chronic fatigue or other health conditions that require you to take care. Never underestimate the potent benefits of a gentle practice. Practising of this level creates a solid foundation that is excellent for maintaining balanced health and preparing to safely practice the next levels.
If you are new to yoga we recommend you start with the Beginners Yoga & Meditation Course. If that's not possible then join this class as it is also suitable for beginners. However this level is beneficial for everyone no matter your experience or level of ability.

Level 1 and yoga nidra - In the quiet of a Sunday afternoon here is a chance to slow down and unwind. An opportunity for release of deep muscular, mental and emotional tension. The session includes a gentle sequence of asanas and 30 - 40 minute yoga nidra (guided deep relaxation). The class leaves you feeling balanced in body, mind and soul.

Back Care Class - This session focuses on practices to help balance posture and create strength in a safe way. Suitable for people of all levels of abilities.

Level 2- This class uses level 1 as a base and systematically introduces the next levels. Suitable for people who are still learning the basics. A harmonious practice to experience correct yoga postures as you develop your strength, flexibility and focus. With energizing and balancing sequences, breath techniques, meditation and relaxation. Combined with knowledge about the benefits of each posture, techniques to practice correctly and what results you'll start to see in daily life.

Level 3 - an traditional practice that is challenging, nourishing and balancing all at the same time. Not suited for beginners or people who prefer a gentle class. Systematically develop your strength, flexibility, fitness, balance, concentration and build mental fortitude. With a regular practice you will experience the far reaching effect on all bodily functions, including better digestion, stronger immune system, balanced nervous system and equilibrium in the mind and emotions.

Level 4 - for those with a dedicated regular practice & who enjoy challenge. With energizing and balancing sequences, breath techniques and meditation.

Level 6 - 8 Advanced - occasionally there is an advanced asana focus class. Visit the EVENTS page for details.- Open only to people who have a regular practice in our studio and at home. If you think you are ready then talk with your teacher. The advanced levels 5 - 8. Here so much more attention is required on slow, conscious, concentrated practice. Remaining in each position for a longer period of time will enable you to experience the influence of the asanas upon body, mind and soul, you begin to percieve the vital energy that is stimulated through your body in each of the postures. The meditation in these levels deepens the concentration (Dharana)

Pre Natal Yoga - Pregnant ladies are welcome to any class taught by Larissa or Wendy. Please ensure the instructor knows you are pregnant. Learn body awareness, breathing, stretches, relaxation & meditation specially for pregnancy.


"The more wisdom you possess, the more humble you become. The more understanding you develop, the more helpful your actions will be. The more goodness that resides in your heart, the more love you will feel for everyone and everything". ~ Vishwaguruji